New, Refurbished and Used CT Simulator Systems
Over the past number of years, CT simulators have surpassed conventional simulators in many radiation therapy departments. CT Simulation provides improved workflow and work quality for today's increasingly complicated treatments.
A CT-Simulation solution for radiation oncology involves more than simply installing a CT Scanner. TRG Oncology International's CT solutions offer a variety of options and imaging technologies including large-bore CT's, multi-slice scanners and respiratory gating. Whether you are in need of a quality standard CT simulator or cutting-edge multi-slice and large-bore systems, we deliver turn-key solutions that satisfy all of your needs. TRG Oncology Equipment has expertise working with all major manufacturers of CT simulators and can provide a selection of previously owned systems, including; GE, Siemens, Phillips, and Toshiba.
TRG is proud to offer a selection of new, refurbished and used CT systems from most of the major manufacturers.
Our CT-Simulation solutions include:
Quality refurbished CT Scanner installed with warranty
Large-Bore and multi-slice options
DICOM-3 Interface for connection to your treatment planning system
Flat Tabletop to duplicate the Linear Accelerator Couch Top
Movable Laser Systems to set up isocenter for patient treatment
Applications Training from qualified experts
Choose from new, used and refurbished options
Multi-year continued service options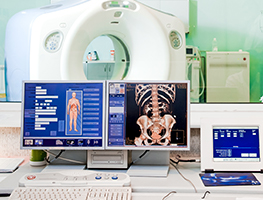 Warranty and Support
TRG backs all refurbished systems with a full system functionality guarantee. We can assist with site planning, including working with your contractors to design a system environment conducive to ease of operation, efficient time management, patient comfort, and confidence. Finally we will install the system at your facility through acceptance and guaranteed functionality per manufacturer's specifications. We can also arrange service with a qualified organization (including the OEM if desired).